Doors Open Days is Scotland's largest free festival that celebrates heritage and the built environment. This annual event gives local residents and visitors of all ages the opportunity to visit historic, civic and interesting buildings that are not usually open or accessible to the public; all for free!
Doors Open Days takes place throughout Scotland in September and is co-ordinated nationally by The Scottish Civic Trust as part of European Heritage Days and Scottish Archaeology Month. For full details of this exciting nationwide festival, and to access the online programme, visit the dedicated Doors Open Days website.
"Get in to Buildings with Doors Open Days – it's free and open to all!"
In Perth and Kinross, Doors Open Days is co-ordinated by Perth and Kinross Heritage Trust and funded by The Gannochy Trust. The Trust has been organising the festival in Perth and Kinross since 1996 and we estimate that our programmes have allowed over 90,000 people the opportunity to visit historic and civic gems across the region. The festival wouldn't be possible without the enthusiastic and dedicated support of thousands of building owners, custodians, volunteers and staff who contribute their time and energy to opening venues to the public each year.
---
Doors Open Days 2022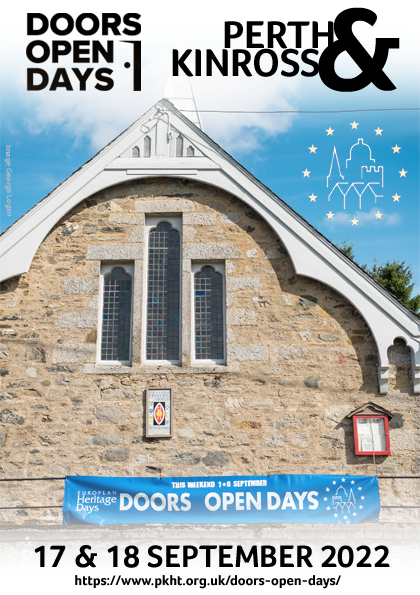 Perth and Kinross Doors Open Days 2022 will be held on the weekend of the 17th and 18th of September. This year's European Heritage Days theme is "sustainability", while the national theme follows Visit Scotland's "Year of Stories".
The final programme has now been put together! The festival will feature behind the scenes sneak peeks, walking tours, exhibitions and of course, open doors (including those of our own Lower City Mills).
The digital brochure will shortly be uploaded here, and keep your eyes peeled for the physical brochure in venues across P&K. A small number of events will require pre-booking (free of charge), so keep checking back on this page for the booking links.
We look forward to seeing you in September!